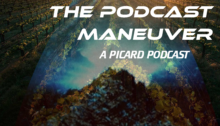 Set phasers to mildly entertained. There were a few good moments sprinkled amongst the madness. Q and Picard's relationship comes to a somewhat satisfying end with Picard now unshackled from his past decisions. The road getting here was rough, but was it worth the journey? And A.Ron has been cured of Jurati syndrome. Thank you for all the sympathy cards.
Picard Season 3 episode by episode coverage is TBD. Who's looking forward to the reunion next season?
Integrity of the magnetic containment unit is deteriorating. Power crystals might last for one final episode. Send in your feedback to picard@baldmove.com.