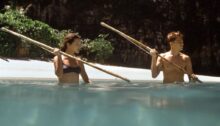 Three years after his star turn in Titanic, Leonardo DiCaprio returns to the silver screen in The Beach, a movie where it's hard to tell what is real and what may be hallucinated. Leo's descent into insanity marks the end of his teenage heartthrob roles. Once you get beyond the 2000-era fashion, the movie poses enough platitudes and questions to consider the possible metaphors under the madness.
If you want to commission a podcast, go to support.baldmove.com, click "commission a podcast", and Bald Move will be in touch for the rest!
Thank you Ian from Atlanta for commissioning this podcast and supporting Bald Move.