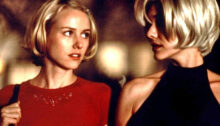 Oh boy… What can I say about this week's big anniversary that won't piss off the general public who apparently respects and admires the works of David Lynch? Well, I can say that we're re-releasing our podcast on Mulholland Drive for its 20th anniversary. I can also say that the opinions expressed in the podcast are now 5 years old and I've seen exactly 1 David Lynch movie that I've enjoyed in that time. 
But hey, A.Ron's here too, and he loved it. From the weird dumpster monsters to the strange musical interludes, he's down to clown on any wavelength Lynch chooses to broadcast. At least half the podcast will be from that perspective.
So enjoy this now-20-year-old movie and what we had to say about it 5 years ago.