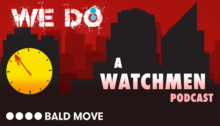 Jim and A.Ron are watching HBO's Watchmen!  They discuss their thoughts, fears, and anticipation about this highly anticipated upcoming series.  
It's almost time for Damon Lindelof's new show, Watchmen, to premiere.  We couldn't be more excited so we've decided to record a preview episode to kick things off a little early.
Get ready.  We're just a few weeks away!