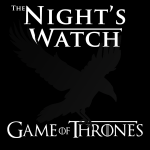 This week we cover Game of Thrones episode 207, "A Man Without Honor".  In which Dany, Robb, and Jon are kind of dumb, Theon moves even further along the "irredeemable whoreson" scale, Jamie is a magnificent death beast, and the Hound takes joy in his work.
If you want to give us a shout out, make corrections, or otherwise give us a piece of your mind, email us, check us out on Facebook, Google Plus, or Tweet us.  As always, we appreciate any love you can give us on iTunes, and your patronage of our amazon affiliate link, amazon.baldmove.com. Remember, when you use our affiliate link, you get the same great prices, the same great shipping, you just send a little bit of love our way, courtesy of Amazon.
Our totally badass theme music was graciously provided to us by AlertTM, who you can also find on Facebook and Twitter.  Check him out, his stuff is amazing!
Podcast (game-of-thrones-podcast): Download (Duration: 1:29:44 — 41.1MB) | Embed
Comments
comments