Halloween isn't too far off which means it's time to start thinking about your costume! This year A.Ron and I have decided to go as Walter White and Jesse Pinkman. We obviously love Breaking Bad and I know there are people out there who love it just as much as us. That's why I've decided to put together the ultimate Breaking Bad costume for the various versions of Walter White.
Heisenberg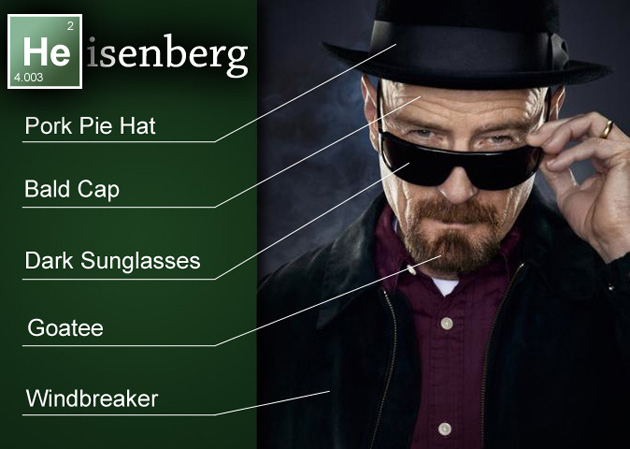 This will obviously be the most popular version of Walt out there.  You can make it as cheap or expensive as you'd like.
Porkpie Hat
High Quality | Cheaper Hat
The hat is an exact match in style if you pull the feather out.  I'm guessing there will be a lot of people who want to wear this thing out and about so I've included a very high quality version of the hat along with a decent quality
 one.
Bald Cap
High Quality Kit
 | Bald Cap Only

Unless you're wiling to shave your head or you don't have any hair to begin with, the bald cap is a necessity for a proper Heisenberg costume.
Goatee
High Quality
| Costume Quality

There's a suspicious shortage of good costume goatees out there but this one could easily be trimmed into a good Heisenberg.  It's a bit darker than Walt's goatee but it matches the rest of his dark outfit.  It's also made of real human hair; a little creepy but that's how the pros roll.  If you'd rather not do any trimming, get the super cheap costume-quality goatee
.  The goat needs to be attached with spirit gum and there's remover included in case you want to eventually abandon your meth dealer persona.
Sunglasses
Designer Quality
 | Costume Quality

The designer glasses aren't an exact match but the shape is almost exactly the same.  The lenses look light but they should darken up once they're shaded by the brim of your signature porkpie hat.  If you just want a really dark pair of sunglasses for that more sinister look, check out these Costume Quality Terminator Sunglasses or pick up some other low quality sunglasses at your local CVS or Walgreens.
You can also go with the standard Walter White glasses since Heisenberg doesn't always wear the sunglasses.
Jacket
Windbreaker
Finally you have his black windbreaker.  It's pretty nondescript and you could probably get away with just about any black jacket including the one linked above.
Be sure to get a good cough going too.
The Cooker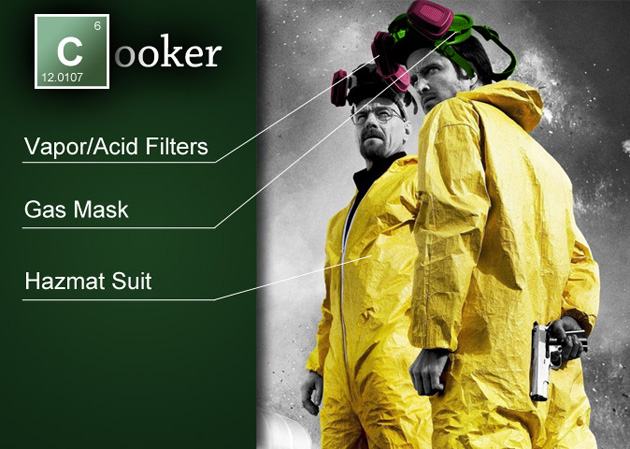 For something a little different you can go for Walt as seen in the lab with these real-life hazmat suits and accessories.  This costume is a bit more expensive than the others but the bonus is that it's fully functional.  In it, you'll be prepared for anything, including a random cloud of phosphene gas.
Tychem Hazmat Suit
The yellow hazmat suits that Walt and Jesse wear in the show are Dupont Tychem suits, according to the production crew.  They come in several sizes so be sure to get one that fits.
3M Full Facepiece 6000 Series, Reusable – Size: Medium
 | Large | Medium | Small
This is the exact mask that they use in the show.  For the most accurate look, be sure to get the one with the rubber cover on the front, especially if you plan to actually cook meth with it.  You'll need it to cover the holes that aren't covered by the filters.  They come in several sizes which are all linked to.
3M Organic Vapor/Acid Gas P100 Cartridge 60923
These are essential to complete the look and block out all phosphene gas while cooking meth.  The pink organic vapor / acid gas are the exact same ones they use in the show so they'll obviously fit the mask I linked above.
No Walter White is complete without a sidekick.
If you're not a big fan of Walter White, why not get into the gangster spirit with a Jesse Pinkman costume?
Jesse is pretty easy to pull off. Just dig around in your little brother's dresser and grab the baggiest, most ridiculous hoodie and jeans you can find.  Top it off with a matching beanie and you're good. So long as you're standing next to a well-executed and perpetually glaring Walter White, people will know who you're supposed to be.
 Necessary Accessory – Blue Meth!
Of course, no Heisenberg or Jesse Pinkman would be complete without their trademark blue meth.  Cook up some homemade blue meth candy in your kitchen with this recipe or just buy the real cotton candy flavor rock candy online
.  It's what they actually use on the show.
Hopefully this will help you create your perfect Walter White or Heisenberg costume for Halloween.  If you have any suggestions, leave a comment.
Comments
comments